This is the most wonderful time of the year, as they say. It's a time of festive lights, glad tidings, and good cheer to one and all, but it's also a time of gift giving which can cause a great deal of stress for many. The stress of finding the right gift for everyone on your list causes many of us to spend an exorbitant amount of time shopping online or in-person. When out of ideas, man often comprise with a gift card, a sweater or some trinket they don't need. Hence why the return lines are so long on December 26th!
"Nearly a quarter of Americans reported feeling 'extreme stress' come holiday time, according to a poll by the American Psychological Association. Holiday stress statistics show that up to 69 percent of people are stressed by the feeling of having a 'lack of time,' 69 percent are stressed by perceiving a 'lack of money,' and 51 percent are stressed out about the 'pressure to give or get gifts.'"
So instead of fretting unnecessarily and asking yourself: 'do they need it,' 'will they like', 'will it fit', or 'do they have a place for it', you should sit down and take an organized approach before browsing the stores (online or in person).
Here's some tips and gift ideas for the stressed-out Christmas Shopper:
Before you begin your holiday shopping, write a list of everyone that you are buying for and then next to each person's name, write down their interests and their hobbies, and they what they need, and what they could use to further those interests or hobbies. After your list is complete, take one person at a time and determine what best fits that person's needs and wants, and then ask yourself if it's a gift they will use for years to come and enjoy.
Fine Wine Caddy has spent the last 35 years handcrafting the perfect gifts for the holiday season, working busy in our Kentucky workshop to create our originally designed and handmade beautiful and functional wood items. Each and every item we sell is made with quality products, skilled labor, artistic precision and great care to produce the best quality product you can find on the market. All of our handcraft wood products are original designs by Fine Wine Caddy and are 100% handmade in our wood studio in Berea, Kentucky, USA. We use only high-quality woods including maple and cherry and we use a safe food-grade mineral oil to preserve the wood.
When it comes to wood choices, wood artist and owner, Doug Haley states,
"In some of my designs, the overall shape speaks the loudest, in others its the wood selection. I love beautiful hardwoods and some of the exotic woods. No two boards ever seem to be the same. When I plane a rough board, exposing the real beauty and characteristics of it, a decision is then made as to which product it best lends itself to. Its almost like it has a voice."
Our workshop may not be in the North Pole, but we are working around the clock producing your perfect gift in Berea Kentucky. So you can be assured that all of our products are designed, made and assembled in the United States since our founding in 1986. And there is great care and love in every product completed in our workshop, as well as extensive preparation to ship it safely and include tools and instructions for your to properly hang, use and maintain your product for generations to come.
So let's get started on fulfilling and completing your Christmas List:
---
For the Home Chef: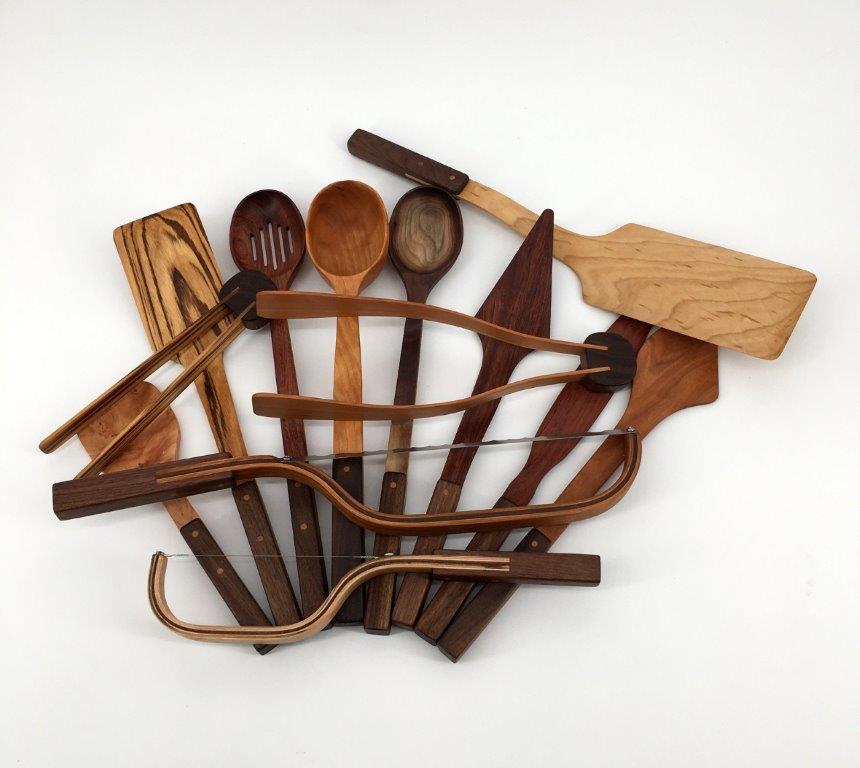 We have a variety of handmade high quality wood kitchen utensils including spatulas, serving and cooking spoons, salad tongs, wood scoops, cake or pastry servers, soup ladles, spatulas and sauté spoons, pasta measure, oven rack puller, risotto spoon, and much more.
Wooden cooking utensils were used centuries ago and are still are the preferred cooking utensils for professional chefs. From slicing your favorite artisan bread or cheese to scooping, scraping, flipping, pouring, serving in your cooking needs, we have you covered. These utensils are sanded very smooth and hand-dipped in food-grade mineral oil. They are offered in four different hardwoods, and all have walnut pegged handles. These utensils were 100% designed and hand-made in our wood studio in Berea, Kentucky USA.
PRICE: Starting at $29
SHOP NOW
---
For the Serious Baker: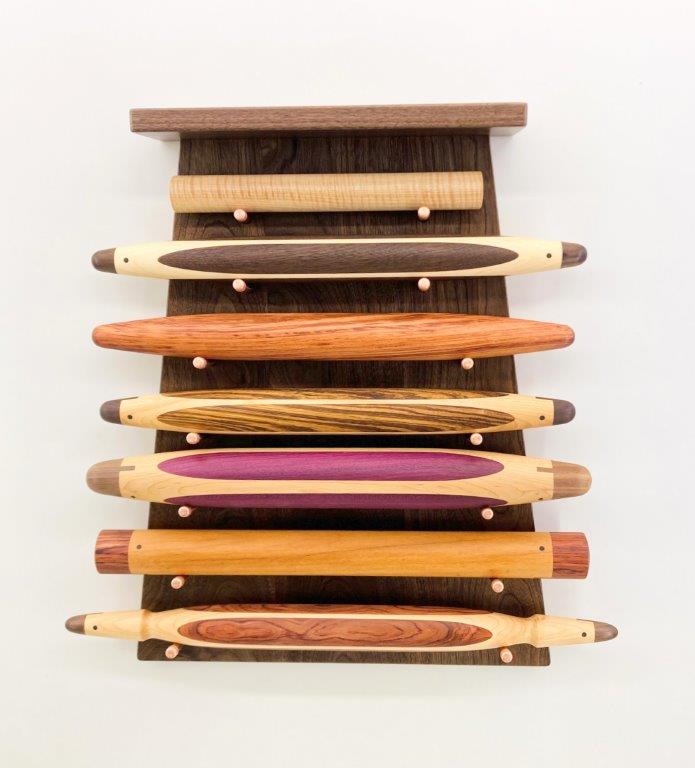 In the past two years, where many of us have spent hours at home, we have had a chance to take time and explore our talents in the kitchen. The demand for flour has increased near 160% for flour alone since early 2020.
We have a full array of kitchen utensils but Fine Wine Caddy is most famous for its collection of designer rolling pins and pin holders to put them on. We offer six different styles of pins, and the most popular is "The Mini". Our mini rolling pins are 12″ long and 1.375″ in diameter. The wood choices are hard maple, curly maple, cherry, light Bubinga, and Bubinga. The cherry is the lightest in weight, six ounces, the Bubinga is the heaviest, weighing ten ounces.
We have rolling pins of various thickness and lengths, and all are one of a kind made from multiple domestic and exotic hardwoods. These functional rolling pins are designed to be a piece of art as well. But the art doesn't stop with the rolling pins; the rolling pin holders or racks available are absolutely gorgeous, with copper or matte black hooks, vertical or horizontal designs, and can be customized to hold one to seven rolling pins. Our Rolling Pin Holders look simply majestic on any kitchen wall. They come in all shapes and sizes, and some having a shelf on top for extra storage or display.
PRICE:  Starting at $17.00
BUY NOW 
---
For the Avid Reader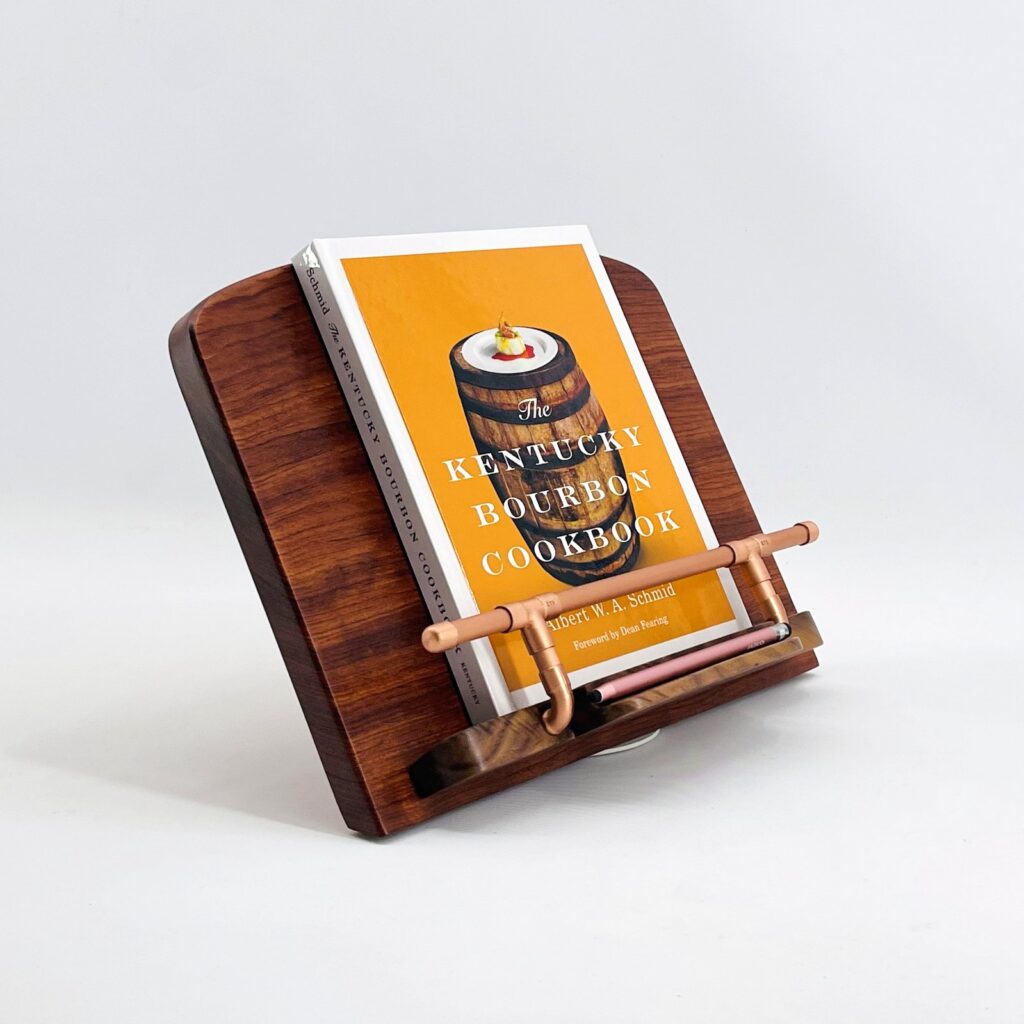 Our NEW Cookbook, Book or Tablet Stand is perfect for those multitaskers out there, offering a comfortable and aesthetically pleasing way to keep your book, cookbook or tablet upright while your hands are free to cook, eat or keep working.
This stunning cookbook-tablet holder will put a sparkle in any kitchen décor. Our goal is to go beyond function; it is to create an eye-catching, aesthetically designed product by using the best domestic and exotic hardwoods available, complementing that with an impeccable finish and skillful artistry. Adding to that is the 11 piece copper assembly bar, clear coated to maintain its existing beauty, intended to be a permanent fixture in your kitchen, an excellent gift for any serious cook.
PRICE: Starting at $121.00
BUY NOW
---
For the Wine Enthusiast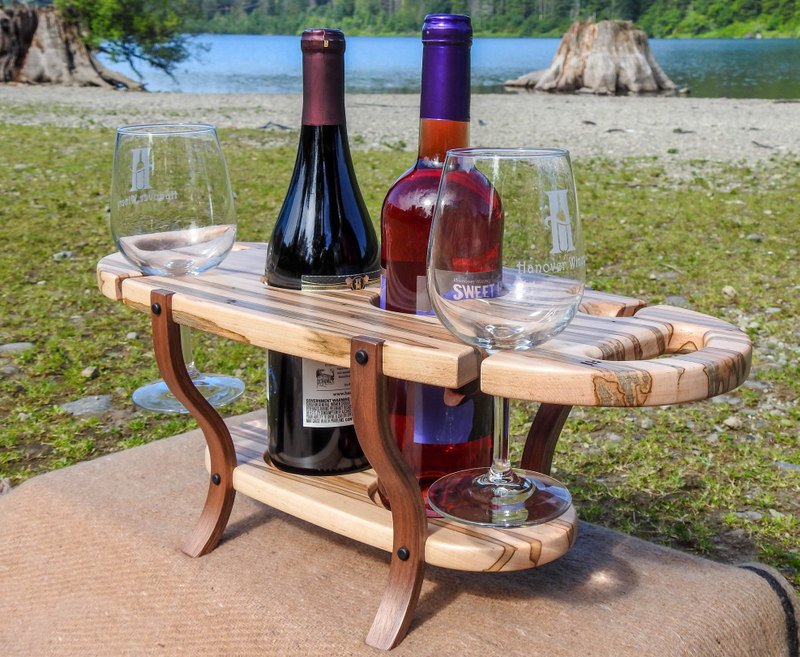 Our Wine Caddies was one of our first designs and our most popular item, hence where we got our name. With our Wine Caddy, fine wine never tasted or looked so good than when surrounded by artful elegance. These gorgeous wood wine carriers hold your favorite bottle of wine and wine glasses, complemented with a removable food tray that holds your favorite wine pairings. The wine caddy makes a great wedding anniversary gift and makes a great home décor piece when not in use, a perfect gift for any wine lover.
These caddies come in three styles; one bottle-two glass, one bottle-four glass, and two bottle-four glass. We offer these three designs in four different kinds of wood, Ambrosia Maple, Cherry, Bubinga, and Zebrawood.
PRICE: Starting at $191
SHOP NOW
---
For the Business Owner or Professional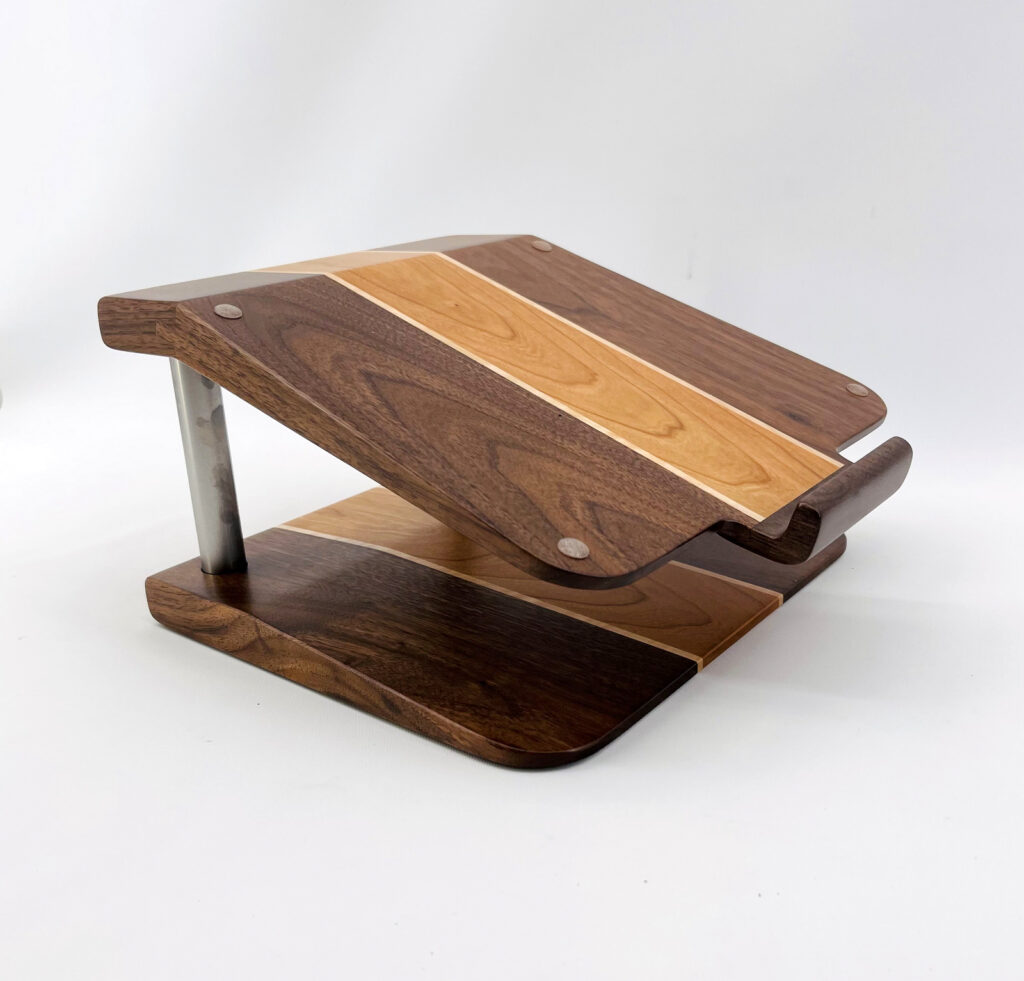 For the office, FWC offers their original laptop stand to improve one's posture while sitting at their desk. This Laptop stand is artfully functional and ergonomically designed. The upper deck cantilevers off two stainless or copper posts and is amazingly strong, with zero flex when typing. Space-saving design, stunning from all sides, is a functional decorator piece for your home or a real showpiece for any office desk. Remember, it is as stunning from the backside as it is from the front. Your clients on the other side of your desk will notice.
PRICE: Starting at $97.00
BUY NOW
---
For the Yoga or Pilates Enthusiast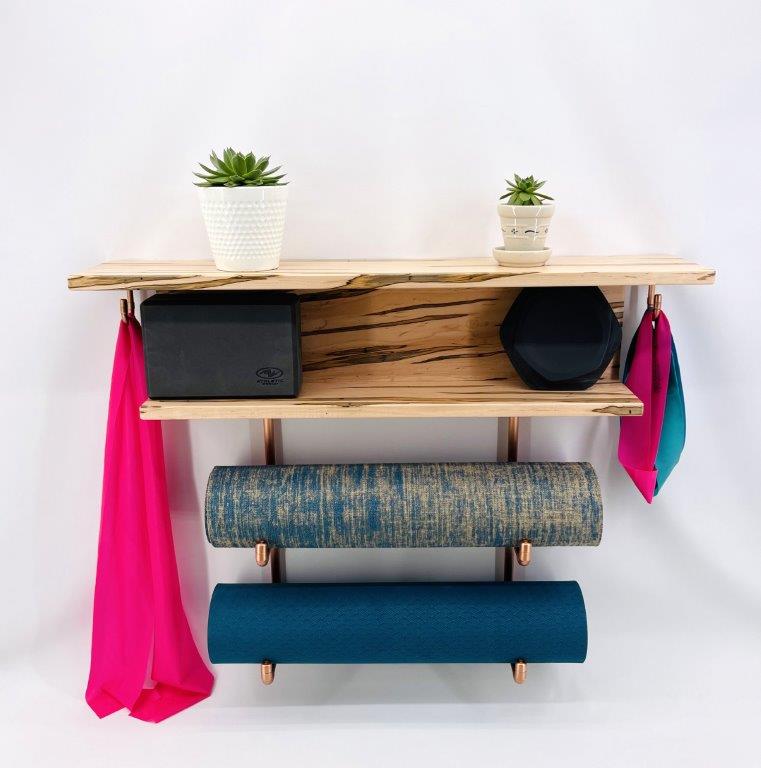 With 36 million people practicing yoga, FWC offers three yoga mat and accessory racks. From a simple one mat rack to larger racks to hold more mats and accessories, our mat racks offer a little zen to your yoga routine. These are original designs from FWC using wholistic products found in nature, we use real wood, copper, complimented with impeccable craftsmanship and finish. All are unique designs, an artful center piece for any wall.
Our yoga mat racks are offered in three designs, each having multiple options for how you can use them. From yoga mats, blocks, bolsters, stretch bands, shoes to your favorite plant sitting on the top shelf, we have it covered. Tidy up your yoga accessories in an artful manner. When your surroundings look good, you feel good. These racks are offered in three select hardwoods, ambrosia maple, cherry, and walnut. The hooks are copper unless you choose matte black. We can customize most of these racks to hold specific accessories in certain places on the rack.
PRICE: Starting at $97.00
BUY NOW
---
For the New Parents or Children in your Life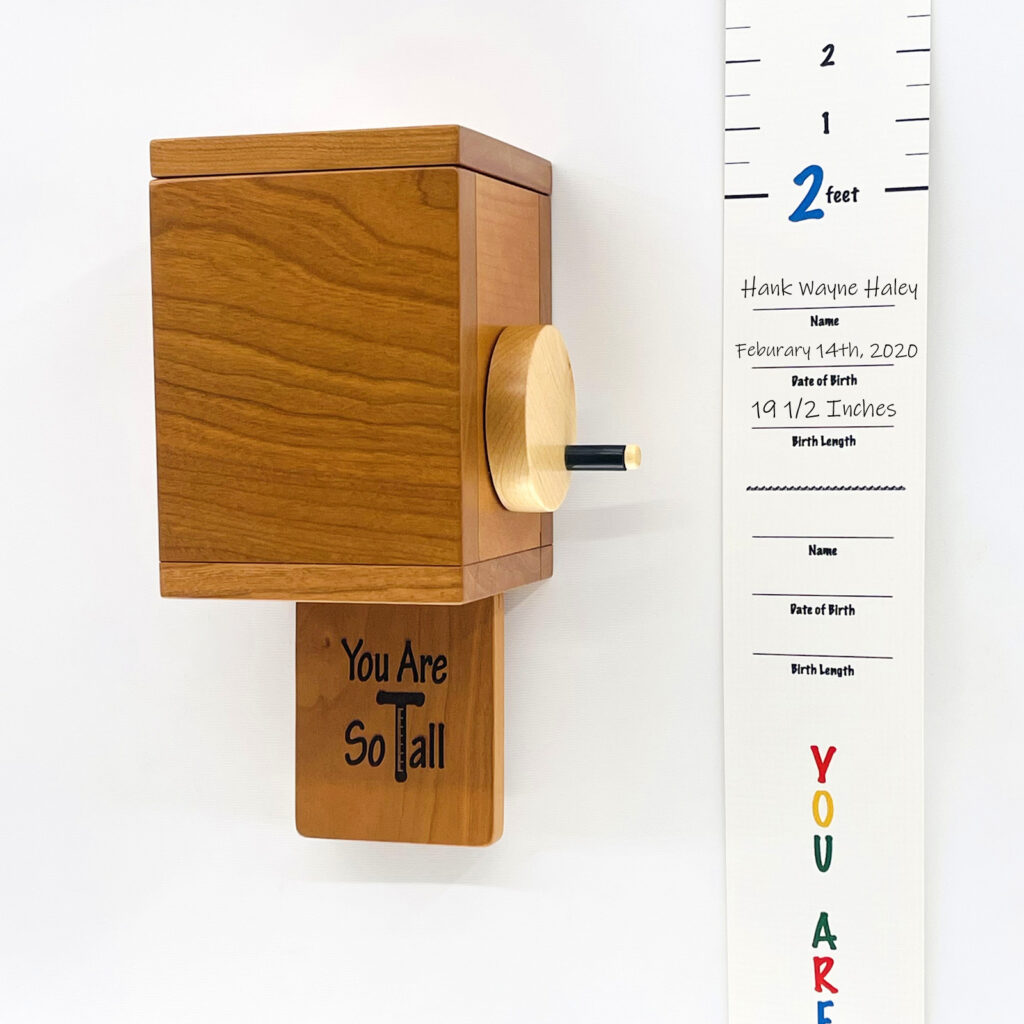 You Are So Tall, an heirloom keepsake for measuring and recording a child's growth. This unique handmade box hangs on the wall and houses a three-inch wide colorful fiber tape that pulls to the floor. A lasered cherry pull tab begins the measuring tape, followed by colorful graphics. You are So Tall, then a place to record the name and birth records of two children. Two feet up, the measuring begins with easy-to-read 1/2″ markings. With an indelible pen, you can record a child's height on special dates such as birthdays, first Christmas, the first day of school, and more. You Are So Tall is a true heirloom that can be passed down in the family, creating conversations for generations to come. This unique wall mount measuring device makes it fun for the parents and child to record the child's growth at special times and on special dates in their life.
PRICE: Starting at $119
SHOP NOW
---
For the Host or Hostess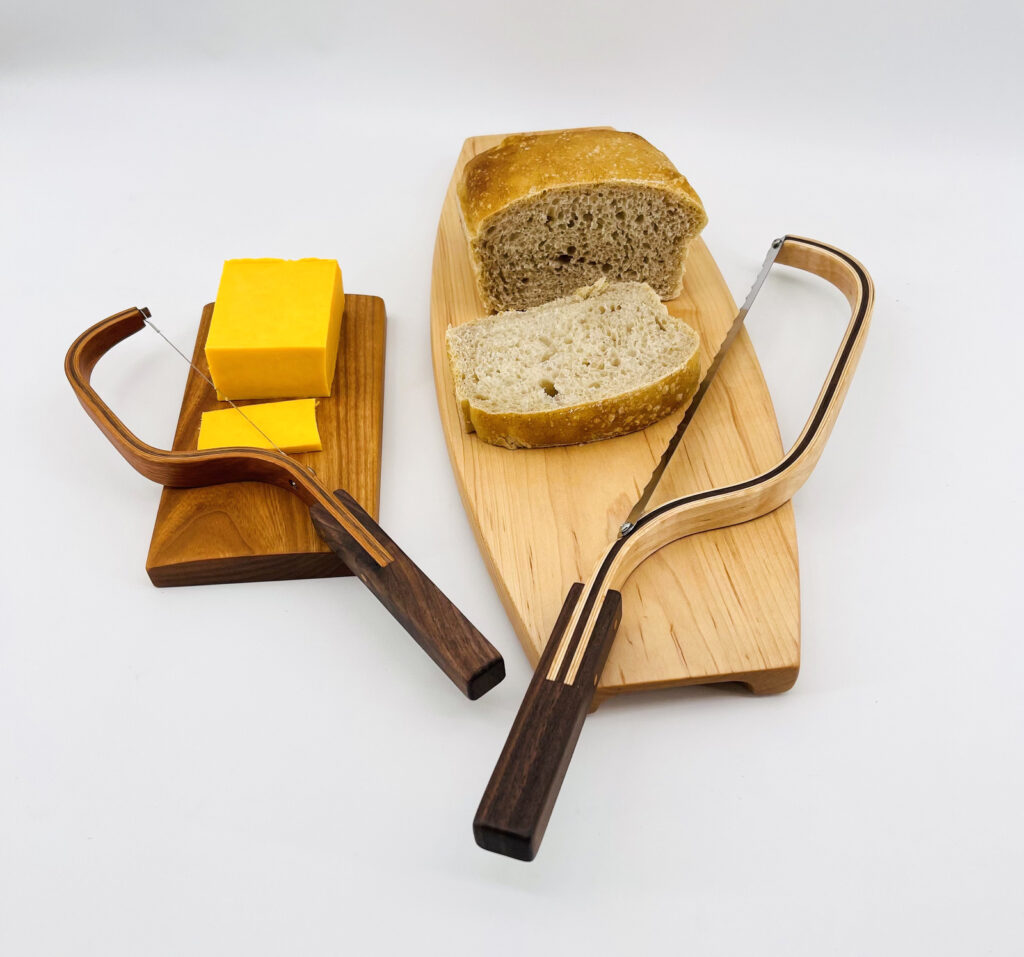 Looking for a gift for that person who loves to entertain, host parties and often opens their door to friends and family? Here's the perfect gift for the next time they entertain.
Cheese Slicer and Cheese Board: This graceful cheese slicer and cheese cutting board with a unique cutting surface is the perfect complement to good cheese. You do not have the pick up and move the block of cheese for every slice cut. This set makes a perfect gift for cheese lovers.
PRICE: Starting at $35
SHOP NOW
---
For the Teen Girl in your Life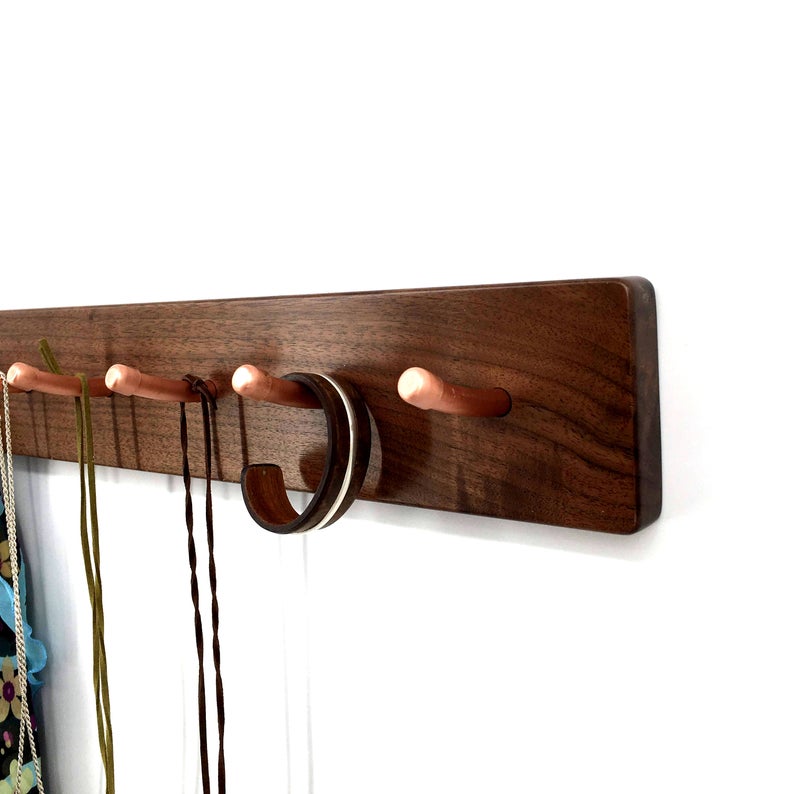 Girls are hard to shop for but offering a place to show off their bling may be just the right thing. (Bling not included). Our beautiful woods with curved copper pegs make an inviting wall piece to hang your jewelry, keys, scarfs, belts, necklaces, and much more. These racks are more than just functional; they are art. Your finest wares never looked so good as when they are hanging on one of these gorgeous racks.
We use the finest domestic hardwoods, reclaimed ambrosia maple cherry, white oak, and walnut. They are finished with a matte sheen lacquer, and the copper hooks are finished with matte enamel to keep them from tarnishing. We have a standard placement of hooks on these racks, but the hooks can be arranged differently for special needs on request.
PRICE: Starting at $27
BUY NOW
---
For the Coffee or Tea Lover in your Life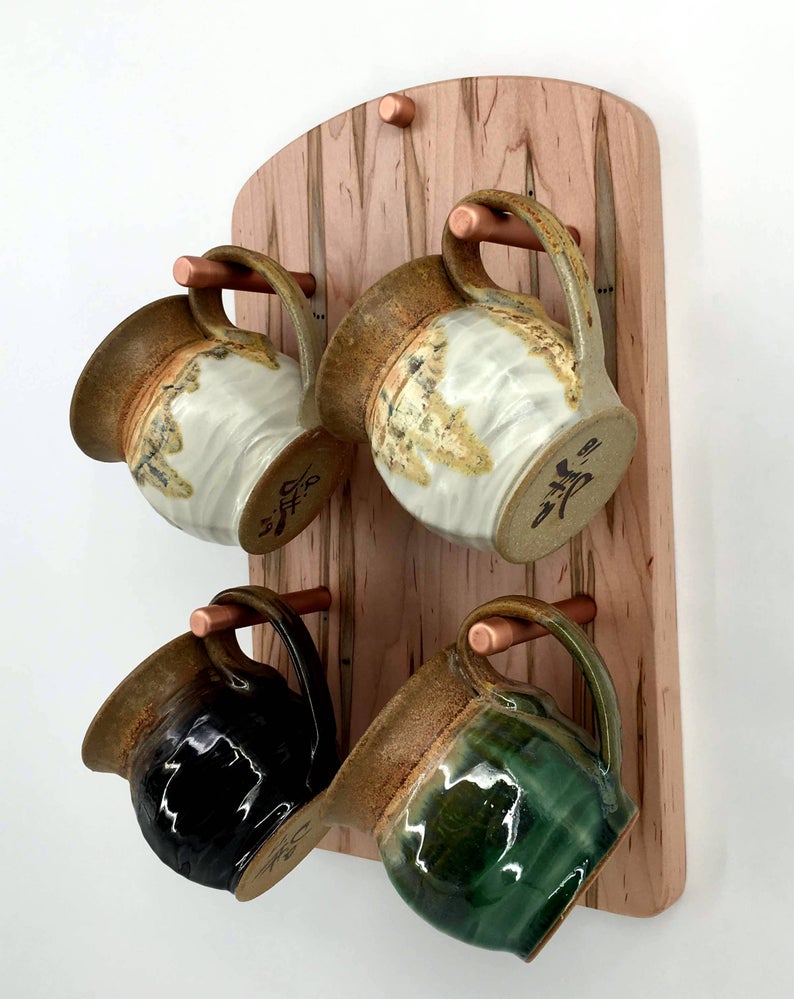 We all know someone who can't function without that cup of coffee in the morning or for those who love to wind down with a good book, a blanket and warm cup of tea in the evening. So here's a gift they will treasure. Our wall mount drinking mug rack comes in horizontal and vertical designs, and can hold two, three, or four mugs. It a beautiful way to display your favorite drinking mugs, while they are always at your fingertips. These racks are offered in walnut, ambrosia maple, white oak, and cherry, all with copper hooks. Our woods are of premium quality and have a moisture-resistant matte lacquer finish. We use no colorants or stains, all woods are natural, but as with any woods, colors can vary slightly from pictures shown.
PRICE: Starting at $31
BUY NOW
---